About The Dog Biscuit
The Dog Biscuit has been developed as a resource for dog lovers and dog owners - I am both. As a child, my family always had canines as pets. We had a black lab named Prince; a german shepherd named Buffy; another black lab named Prince (after our first one passed away from old age).
When I moved out on my own after high school, I wasn't allowed dogs in the apartment I lived in but within seven years I was married and my husband, also a dog lover, brought home a Rottweiler/Black Labrador cross that we named Benson within the first six months of buying our first home.
---
Introducing Benson
Benson was a wonderful dog; he was patient, loving and had an amazing temperment and personality.
When we started to have children, there was never any jealousy - Benson figured he was the children's protector and no one - outside of the family - was getting close to them unless he thought they were okay (we had to greet the person first).
After Benson passed away at the ripe old age (for him) of 13 years old, we inherited my sister's Cocker Spaniel for a couple of years while she and her family moved out of the country for work. My son's job (he was thirteen years old at the time) was to walk Kenji after school every day while my husband and I were off at work.
Some days I'd come home from work and Kenji would have leaves in his coat from the runs that Paul would take him on! He had a beautiful coat of hair and my evenings were spent picking out the leaves and twigs and brushing out the hair - it was actually very soothing for both of us (almost like meditation in terms of the relaxation after a hard day's work).
When my sister returned to the city, Kenji went back to her and her family.
---
Introducing Vega
But within the next couple of years we'd adopted a Bulldog/Boxer cross called Vega.
Here's Vega surveying the land: looking for the family to come home.
Actually, it was my son who adopted her.
He was volunteering at the local animal shelter - walking dogs for exercise every couple of days.
Vega, who was two years old at the time, had been mistreated by two previous owners (she still carries the scars on her face) and was considered unlikely to be adopted.
Vega hated being caged and hated being close to other dogs - she was afraid.
After walking her a number of times, the two developed a strong bond and Paul, my son, couldn't bear to leave her at the shelter anymore.
Vega waiting to go on her walk.
Vega's been with us for six years now. She still exhibits fear aggression to other dogs on the street; but we always walk her on the leash and control her movements.
She is very attached to my son but still understands her role in our 'pack' - she recognizes us as being in charge and that she's not the leader.
She's getting older now and has some trouble with arthritis but she still loves to play fetch, chew on her toys, and spend time with us.
She's a very cuddly dog (hard to believe when you see her), but she loves to sleep on her bed by your feet - not across the room by herself.
---
Introducing Harley
My youngest child, Caitlin, is also a dog lover and she begged and pleaded with me to let her have her own dog.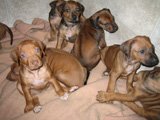 A litter of new pups: Rhodesian Ridgebacks at four weeks old (Harley's in the middle of the photograph!).
So she took me to see a young litter of Rhodesian Ridgebacks at a breeder's close by. Of course, once you see a puppy who could help but want one! So we chose the one we wanted and named her Harley (she lived in a neighborhood with a lot of Harley motorcycles).
We visited her every week from the time she was three weeks old to the time she was eight weeks old; then we brought her home.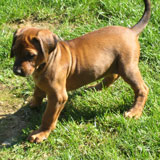 Here's Harley at eight weeks - she thought that the grass was a little scratchy and was trying to tip-toe through it!
Harley is an absolute sweetheart of a dog. She's three years old now and while we think she's got a great heart, she doesn't have the smarts that Vega has.
However both of the dogs get along well and we couldn't imagine not having them with us.
Harley loves raw carrots and ice cream (not that we give her ice cream but she has been known to jump up and grab an ice cream cone from my daughter's hand and run with it!). She also loves chasing birds, squirrels, and anything that moves. She's very socialized - she is great friends with other canines and all humans.
---
We know that our Bulldog/Boxer cross is getting older for her breed but we are giving her the best dog food and dog treats available and make sure to spend lots of time with her. Our dogs are an integral part of our family.
Throughout the years we've had many dogs. I wish they lived as long as we do, but sadly they only live 10-15 years. It is our job to make sure that while they are in our care, that we give them the best of everything from veterinary care to nutrition, shelter and companionship.
Now we have two not-so-little dogs in our home. Both have their own distinct personalities and behaviors (just like people); both get a long with each other very well. Harley knows that Vega's the boss of the two of them! And they both know their roles in our family. We've worked hard to train them. We love to play with them. And we take good care of them from a nutritional and health perspective. In return? They give us unconditional love and are great at de-stressing us!




Return to The Dog Biscuit Home Page