Welcome to The Dog Biscuit


Homemade Dog Food Recipes, Organic Puppy Food, Treats and More!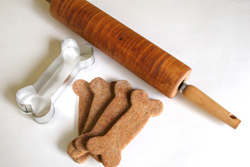 The Dog Biscuit website provides information on the best dog food and shares homemade dog treats and homemade dog food recipes. From natural, organic puppy food, to information on raw dog food diet, commercial pet food comparisons, health info, training tips and more.
In this age of chemically-laden, commercially produced pet foods and treats, we believe it is important for us to offer wholesome, nutritious (and even organic when possible) alternatives for the health of your pet. If you want your pet to stay with you a long time, you need to start feeding healthy, nutritious food and treats from day one!
The main theme of our website is focused on providing the best dog food nutrition in the form of pet food and treat recipes. However, we do include other related topics, such as: a Dog Food Comparison section; information focused on New Puppy Care (including organic puppy food); and more.
There are great homemade alternatives to commercial pet food but not all commercial food or treats are bad; so, here you have a chance to share pet food reviews of commercial food, recipes, and other canine care tips. We'd really like to hear what works for your pet, and what doesn't (our Rhodesian Ridgeback loves all food and treats so will eat the food, but if she's allergic to some of the ingredients she'll throw up or have diarrhea shortly thereafter).
This site is intended to be interactive - we want to share our experiences (of being pet owners and pooch lovers) and would love to hear from you about your experiences. Tell us what your pet loves to eat, or absolutely can't stand. (Mine runs in the opposite direction when I wave a celery stick (odd, huh?) but will jump all over me like a puppy for a carrot stick or a peanut butter doggie biscuit!)
NEW!! Share your favorite homemade dog treats and recipes with us!
---
More than Dog Biscuit Treats, Food and Recipes:

In addition to having homemade biscuits, treats and food recipes, we also offer information on these:

And More! Including:



Use this site to find good recipes, good resources, and good tips on the care and well-being of your canine! Your pooch can be a great member of your family; and just like with other family members, you need to spend time together, play together, take care of each other. Canines are wonderful pets, and a great addition to your family!
---
Find out more about how you can enjoy your pet, and help your pooch live a happy, healthy life:
Visit Dog Biscuit Recipes for more treats recipes.
Visit The Dog Biscuit Sitemap to explore other topics on this site.
And check out the Homemade Dog Treats Blog for the latest information on The Dog Biscuit Site.