How Do Homemade Dog Treats Affect Your Dog's Diet?
Homemade Recipes for Dog Treats
Homemade dog treats are one of the best dog food choices. Healthy dog food recipes, including recipes for dog treats, do not include chemicals and preservatives that cause dog skin allergies.
Just like humans, canines love a variety too when it comes to their diets. Just like we like our snacks, so do our best friends.
And just like us, it's important that they are offered healthy snacks and treats. While you can offer store-bought treats, the best are the homemade kind (because you can control all the ingredients in the recipe and ensure that no chemicals or preservatives or unhealthy additives are included.
Get involved in understanding and better managing your pet's diet. Start by consulting with your pet's veterinarian about the proper nutrition needed for your pet's good health.
Not all food and treats are created equal and veterinarians can often tell you exactly what your pooch needs as part of their daily diet (and what they don't need).
Some canines will do well with moist pet food while others will need dry. And remember to discuss your recipes for dog treats with your vet. They may even have healthy dog food recipes, including homemade treat recipes, for you to try.
---
Homemade Dog Treats
Let's define "homemade dog treats". We are not talking about a morsel of food that is given from the table. It is not a "bite" of whatever it is that you are snacking on - even if you are snacking on something you made from scratch.
You need to make sure that the ingredients you use to make your treats are ones that are good for your pet. Many table foods can be harmful to your pooch's health.
You can think of it this way - if it's something that's bad for you, then it will likely be bad (if not even more so) for your pet. And, even then, some foods that are good for us can be bad for canines.
For example, chocolate and raisins are among those snack foods that are very bad for a canine to eat. It's important that you know which ingredients can be safely ingested by your pet.
Let's touch on a commercially sold pet treat that is questionable. Rawhides have been given to canines for years to snack on. These are no longer recommended treats. Yes, your pooch may love to chew them but there are known health issues from rawhide chews.
For example, your pooch may swallow a large chunk of the chew and it can get stuck in the throat or even in the intestines. The chemical preservatives used on rawhides is unhealthy and can cause sore throat, vomiting, skin allergies and more. Ask your veterinarian for their advice on alternative chew treats.
---
Healthy Dog Food Recipes
The benefit of making your own pet food and/or homemade treats is that you can control the ingredients and that you know each ingredient used.
If your canine begins to exhibit an allergic reaction, like skin allergies, it is likely related to food. You can identify what products they are allergic to (through the process of elimination) and replace those item(s) with non-allergenic ingredients by using healthy, homemade recipes for dog treats and food.
If you give treats in the correct manner, your pooch will be happy to have it whether it's a carrot or one of your homemade dog treats or cookies.
Try not to over-do the treats, it may be tempting to give your pet a lot of treats because you can plainly see the treat makes them happy.
Let their pet food be their main source of nourishment and give treats on an occasional basis, preferably not every day. Remember that you don't always need to use food as a reward; praising, playing and giving your canine attention is better than a food treat!
---
No Time to Make Recipes for Dog Treats From Scratch?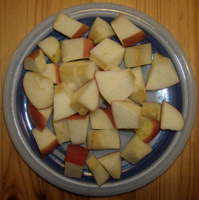 When giving out treats to your pooch try to stay away from the really big ones. If you have large treats, break them up. Just like people, canines can become fat if we over-feed them. If you make homemade dog treats, understand what ingredients are best for canines (they have different digestive systems than humans - with shorter digestive tracts) and always make sure to make homemade treats with the very best and most nutritious foods.
Haven't had time to make your homemade dog treats this week? That's okay. There are foods you can use that require very little preparation.
These make excellent quick treats:
Apples (cut up into small bites)

Carrots (sliced small or baby carrots)

Ice Cubes (small enough for them to get a good crunch on): you can also freeze homemade chicken or vegetable broth in cubes and give that as a hot summer day treat!
These are healthy quick-fix snacks for your pet and won't pile on the pounds.




Return to top of Homemade Dog Treats.
Return to The Dog Biscuit Home Page.