Dog Food Recipes - Healthier for Your Dog
A Healthy Diet Can Help Prevent Canine Illness
Use dog food recipes to provide the healthiest food for your pet. Learning how to make dog treats from a basic dog cookie recipe is easy. Knowing what your dog eats by making it yourself will reduce canine illness and control allergies.
Instead of buying commercially made pet food, why not collect and cook dog food recipes to give your pet the absolute best in nutrition. Because these days you really don't know what all you may be getting in the pet products you buy.
Remember the scare and the horror with the tainted pet food that was made in China? Many people lost their beloved pets as a result of feeding them the tainted food. Pet food they thought was good for their canines.
Have you ever read the ingredients on canned or dry products in the store? Chances are if you can't pronounce it, then it's not that good. A lot of commercial foods are filled with filler. Some use leftovers from processing plants; so ingredients are questionable at best.
Making meals for your canine from dog food recipes are a great way to ensure that you know exactly what's in their food, because YOU are making it. It's not that difficult, no more so than cooking for your family. And your canine, after all is a member of the family, right?
Recipes
When compiling dog food recipes, talk to your veterinarian about what ingredients and supplements are good and what items you should avoid (for example a dog cookie recipe should NOT include sugar, but it can contain healthy vegetables and maybe some brown rice flour and dried liver).
Foods that are not good for most canines include refined sugars and flour, high fat foods, additives and fillers. Your pooch's diet needs to be high in good value protein (and low fat) with the addition of some green vegetables (sweet potatoe in limited quantities can be a good addition to their diet).
By investigating the best ingredients and recipes you are taking charge of your pet's nutrition and, in return, your pet's health. It is important that you know what ingredients can be hazardous and which ones are beneficial to your pooch's health (remember you are trying to minimize the potential for canine illness). Make a list of those items and if you shop for your pet food, check the list; if you make your own meals for your pooch then keep the hazardous items list with your dog's food recipes.
Treats!
Don't forget that in addition to making meals, you can also pretty easily learn how to make dog treats for your pet. Treats can be as simple as chicken broth frozen in ice cube trays for a mini-popsicle on a hot summer day. Or they can be more complicated biscuits or cookies - but you can make a big batch and freeze or store them for a while so you only have to make them once every three or four weeks.
Canines can have food allergies (just like people). Typically, those allergies are to the additives or chemicals that can be found in commercial products. But sometimes, pets can also be allergic to natural organic foods.
Your Pet and Your Vet
If you suspect that your canine has developed a food allergy (either to homemade dog food recipes or to commercial products), talk to your veterinarian and see if hypoallergenic canine food is the answer.
Most commonly, your veterinarian will have you limit your pet's food to only one or two ingredients/items for a period of time. This is to use the process of elimination to try to find out what your canine is allergic to. Once the skin and/or stomach irritation is gone, then you will be able to begin to add food groups back into your pooch's diet.
Do not dismiss allergies as unimportant to your pet's health; allergies that are left untreated can result in serious canine illness. The benefit of using homemade recipes is that you can control the ingredients and limit the high-sensitivity ingredients.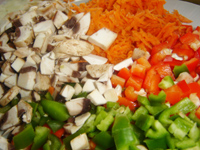 To cook or not to cook? With canines you can safely feed them raw meats, certain vegetables and their juices and grains. Canines that run in the wild don't get "home cooked" meals.
They have to rely on catching and killing their meat, and they eat it raw. Any veggies they get are ones they find growing wherever they happen to be. None of it is peeled, diced, cooked.
So feeding your pet a raw food diet is okay.
Natural and Organic
Consider feeding your pooch organic foods. Organic is better for them too. If you have a garden or farm, then try to incorporate products from your garden into your pooch's meals.
You can fix your pet a meal along with your own - although your pooch's diet must be much high in protein value and lower in starches and sugars. Make a large batch that will last a couple of days and refrigerate or freeze the portions.
Feeding your pet a healthy, natural diet will have positive long term health benefits.




Return to top of Dog Food Recipes.
Return to The Dog Biscuit Home Page.