Homemade Pet Food
How to Make Dog Food?
Make healthy, homemade pet food for your dog. Learning how to make dog food is easier than you think, and good for your dog, especially if using a home made dog food recipe with nutritious ingredients.
If you make your own homemade pet food, you need to know the benefits that fiber has for your dog's diet.
While fiber was once considered nothing but filler, a high-value fber is now considered an important nutrient in a dog's daily diet.
Note: This does not mean that you should add low-value, highly refined fibers such as bleached flour to your pet's diet; be aware of what is considered 'good' fiber (brown rice and sweet potatoes for example).
---
Why Use Fiber in Your Homemade Pet Food?
Fiber is a carbohydrate and is not very digestible. Just like with humans, fiber helps your dog's digestive system. It acts to help clean things out and keep things moving down the digestive tract. Too much (of any food group) is not a good thing, so it's important to maintain a balance of fiber in accordance to your pet's size, weight and dietary needs.
Dogs can become obese just like we can. Fiber is an excellent way to insure that other foods will move along and out of your dog's body, keeping him from holding on to those extra fat and calories that may cause your pet to gain excessive weight.
Depending on the breed, the state of health and the weight of your dog, he or she may need a little more - or a little less - of the fiber in their diet.
If you discuss your pet's nutrition needs (tell them what you put into your homemade pet food) with your veterinarian, follow your vet's advice for the portions of the different food groups that your pet needs and make sure you listen to the vet's advice about foods that your dog's breed is more sensitive to.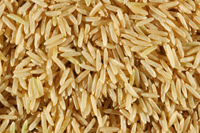 Fiber will help to prevent constipation. Just like with humans, as dogs age they may need more fiber to keep constipation at bay.
Fiber keeps the digestive tract moving by absorbing water along the way. This bulks up within the intestines and causes them to push or move on out the contents. This helps to keep the digestive tract normal and healthy.
You can judge whether or not your dog is getting the proper amount of fiber by looking at his feces. Normal feces is firm but not hard. If there is too much fiber in the diet, the feces will be loose (much like diarrhea).
Fiber may help to control diabetes mellitus according to some studies. It's believed to help control the levels of blood sugars by absorbing the sugars from the intestines.
---
Use the Right Ingredients in Your Home Made Dog Food Recipe
By making your own homemade pet food you can control the type of fiber you put into your dog's food. Make sure that your home made dog food recipe contains these good, safe, sources of healthy fiber:
brown rice
buckwheat
ground flax seed
psyllium seed (like in Metamucil)
raw sesame seeds
wheat bran
whole oats
Learning how to make dog food is the easy part; the harder part is learning the best food groups to use and the proportion of each ingredients (proteins, vegetables, starches, even fruits) that should go into the homemade pet food that you make.
---
Why Make Your Own Dog Food?
Learning how to make dog food can seem like a big time investment, and sometimes even result in additional costs. BUT, that investment of time is really not that much: once you learn what ingredients to use and what your dog loves most, you'll find you can cook up a meal for your dog in minutes!
The benefits of making your own dog food are related to the health and well being of your dog: you know what is going in to the food and you control the ingredients. It is not much more expensive than commercial dog food, and the reality is that if you consider that your dog is receiving more nutrition per ounce of food and will live a healthier life, the benefit on that expense is very good!
Many dog owners often start to use all natural and organic dog food recipes because their dog has developed food allergies or other digestive issues. Before you change your dog's diet, discuss possible triggers and remedies with your veterinarian.
Control your dog's diet by controlling the ingredients in the dog food you make and by using all natural dog food ingredients and recipes. When you learn how to make dog food (it's easy) you can really help improve your dog's health.
We also recommend a product called PetAlive Digestive Support which is a herbal remedy developed to treat digestive system problems in pets and is FDA approved.
---
Return from Homemade Pet Food to The Dog Biscuit Home Page